A special commemorative concert marking the centenary of the Civil War in Kerry will take place at Siamsa Tíre in Tralee next month as part of the programme of events for a three-day conference on the conflict in the county and beyond.
'Their Memory Will Endure' is a concert of song, poetry, drama and letters from the Civil War period in Kerry and will take place on Saturday, 25th February at 8.00pm. The concert, featuring some of Kerry's best-known performers, will bring to a close the three-day Kerry Civil War Conference at Siamsa Tíre which is part of the 2023 Decade of Centenaries Programme.
A distinguished cast present a wide selection of songs, drama and poetry which offer varying perspectives on the events of 1922-23. Performers include the poet Gabriel Fitzmaurice, singers Róisín Ryan, Karen Trench and Mícheál Ó Sé, musicians Matt Griffin (guitar), Matt Dean (flute and whistle), and Bryan O'Leary (accordion), members of the Killorglin Drama Group, and set dancers from Kilcummin.
Tickets are now on sale from the Siamsa Tíre Box office on 066 7123055 or siamsatire.com
Dr Susan Motherway, ethnomusicologist at MTU Kerry, who is choreographing the event said: "This concert recognises the historical role and significance of the popular ballad in Ireland. As the folk singer Frank Harte once stated 'those in power write the history, while those who suffer write the songs' With the help of song collectors Gabriel Fitzmaurice and Peter Mullarkey, and historians Fiona Brennan and Owen O'Shea this concert re-tells the stories of Kerry people during the civil war, be they soldier, son, wife or mother.
"We are particularly delighted to welcome Brian Sheehy to the stage to share a personal reflection of his father John Joe Sheehy and the role of the GAA in healing the political divide," said Dr Motherway.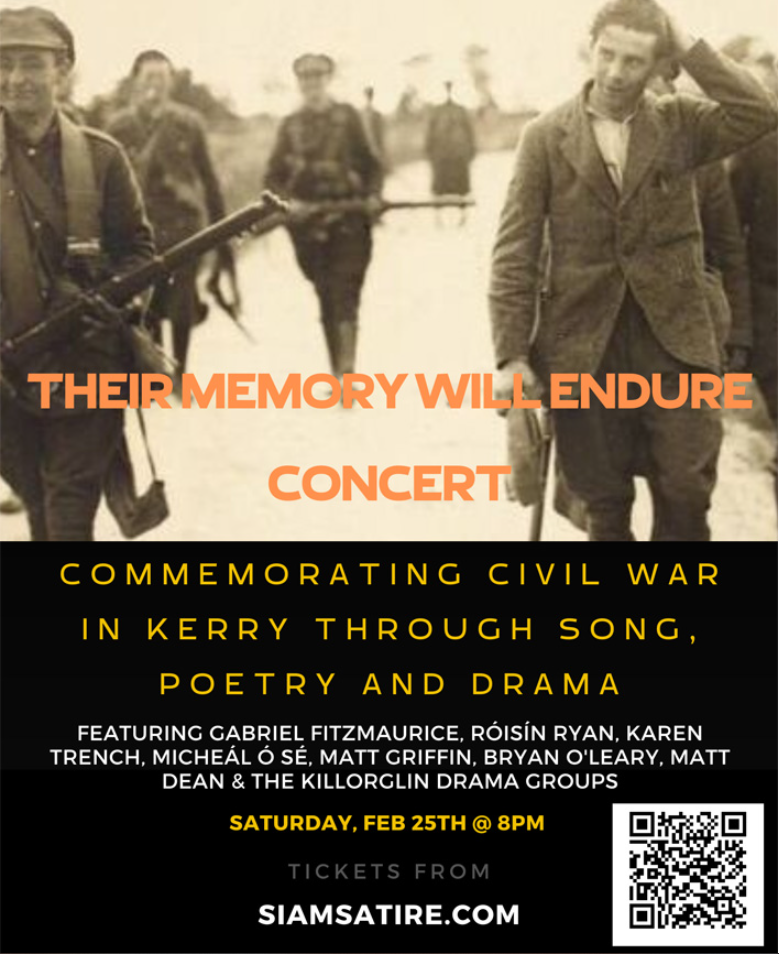 One of the organisers of the Kerry Civil War Conference, Bridget McAuliffe said: "We are thrilled to have so many talented and experienced performers coming together to commemorate the Civil War in this way. Our objective with this centenary conference is to explore the events of this period in many ways, whether through lectures, discussions and exhibitions as well as artistic portrayals of the trauma and turbulence of this difficult time in our history."
The three-day conference in Siamsa Tíre Tralee will mark the centenary of the Civil War and will bring together a wide range of local, national and international experts, historians and academics to discuss the conflict and its legacy. The conference will form part of the State's Decade of Centenaries Programme for 2023 and is supported by Kerry County Council and the Department of Tourism, Culture, Arts, Gaeltacht Sport and Media. Full details at www.kerrycivilwarconference.ie